2024 Convention and Trade Show
The 70th Annual MLMA Convention and Trade Show
---
Thursday, June 20, 2024
at
12:00 PM (CDT)
to Sunday, June 23, 2024 at 11:00 AM (CDT)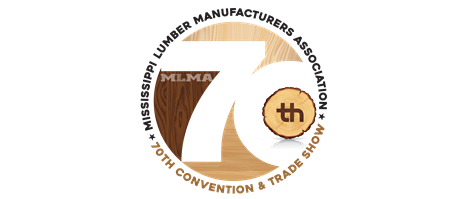 You're invited to join us at our 2024 Convention and Trade Show, where we'll be celebrating our 70th Anniversary! This event promises to be extra special, and we would love to have you there as an attendee, exhibitor, and maybe even a sponsor!
You will have the opportunity to interact with our influential Mill Members and a diverse group of Associate Members. It's a fantastic opportunity for networking and making meaningful business connections.
Please join us Thursday, June 20th through Sunday, June 23rd at the Beau Rivage Resort and Casino. Attendee registration will open March 1, 2024. This event is open to all MLMA Members.
If you are not a MLMA member and you would like to attend this event, please contact Ellery Jones.
For exhibitor and sponsorship opportunities, contact Ellery Jones.
We look forward to seeing you in 2024 in Biloxi, MS!
Agenda
June 20
12:00 PM - 2:00 PM

Board Meeting


Closed Meeting for MLMA Board of Directors
4:00 PM - 7:00 PM

Registration Opens


Pick up name badges at the registration desk
5:30 PM - 7:00 PM

President's Welcome Reception


Welcome reception in the Azalea Ballroom
June 21
8:30 AM - 12:00 PM

Exhibitor Set-Up


Exhibitor check in and set up available in the Magnolia and Camellia Ballrooms
9:00 AM - 5:00 PM

Registration Open


Pick up name badges at the registration desk
12:00 PM - 1:00 PM

Exhibitor Appreciation Luncheon


Luncheon in the Azalea Ballroom. Open to all trade show exhibitors, MLMA Mill Members, and Board of Directors
1:00 PM - 5:00 PM

Trade Show and Silent Auction


Doors open for the trade show in the Magnolia and Camellia Ballrooms. Visit with exhibitors, MLMA Mill Members and Associate Members.
2:00 PM - 5:00 PM

Cocktail Reception


Cocktails and heavy hors d'oeuvres served in Magnolia and Camellia Ballrooms
4:45 PM - 5:00 PM

LIVE AUCTION


Live auction in the Magnolia Ballroom
June 22
6:15 AM - 12:00 PM

Fishing Tournament


Fishing Tournament in Pass Christian, MS. Drinks and appetizers following tournament at Shaggy's Bar and Grill.
8:30 AM - 1:30 PM

Golf Tournament


Golf Tournament at The Preserve Golf Club. Shotgun start at 8:30 AM. Transportation is provided from the Beau Rivage. Lunch will be provided for golfers.
10:30 AM - 1:00 PM

Ladies' Brunch


Champagne Brunch! Transportation will be provided from the Beau Rivage.
1:00 PM - 4:00 PM

MLMA Pool Party


Pool party at the Beau Rivage pool.
5:30 PM - 7:30 PM

Closing Reception


Evening reception in the Azalea Ballroom. Prizes awarded for golf and fishing tournaments.
June 23
11:00 AM - 11:00 AM

Hotel Check Out
For More Information: