2023 Annual Meeting
Annual Meeting in Flowood, MS
---
Thursday, February 16, 2023
at
3:00 PM (CST)
to Friday, February 17, 2023 at 5:00 PM (CST)
Category: MLMA Member Events
Please join us for our 2023 Annual Meeting on Thursday, February 16, 2023 and Friday, February 17, 2022 at Sheraton Flowood The Refuge Hotel and Conference Center. We are excited to welcome Lieutenant Governor Delbert Hosemann as our guest speaker this year!
Registration is open to all MLMA Members. Early registration will end Friday, January 27th. Late Registration after that date will include an additional $50 registration fee.
Sponsorships are available now! All of our sponsors will be recognized in print, online and in our email campaigns. Please consider a sponsorship for this important event to promote our industry and your business! Click the register button to view all sponsorship opportunities. The last day to purchase sponsorships will be January 27th.
You must be a logged-in member to register for this event. If you have not set up your member compass account, please visit this article for directions.
If you are purchasing tickets for multiple employees in your company, they must also be listed as one of your people in your member compass. Please contact Ellery if you need help setting up staff members for your company.
Special thanks to our Meet and Greet Reception Sponsor!

Agenda
February 16
3:00 PM - 3:00 PM

Hotel Check In


Check in available for room reservations at Sheraton Flowood
4:00 PM - 5:30 PM

Meet and Greet Reception sponsored by USNR


Welcome reception at Missy Sippy Rooftop Bar at Sheraton Flowood
5:00 PM - 10:00 PM

Party Bus Transportation


Buses will begin transporting guests to dinner at Char
5:30 PM - 9:00 PM

Dinner at Char Restaurant


Cocktail hour and dinner at Char Restaurant
February 17
8:30 AM - 10:30 AM

Board of Directors Meeting


Closed meeting at Sheraton Flowood
11:30 AM - 2:30 PM

Annual Meeting Luncheon at Sheraton Flowood


Luncheon with guest speaker, Lieutenant Governor Delbert Hosemann. Followed by our Business Meeting with member LogDeck presentations, government affairs updates and Guest Speaker, Garret McInnis from Accelerate Mississippi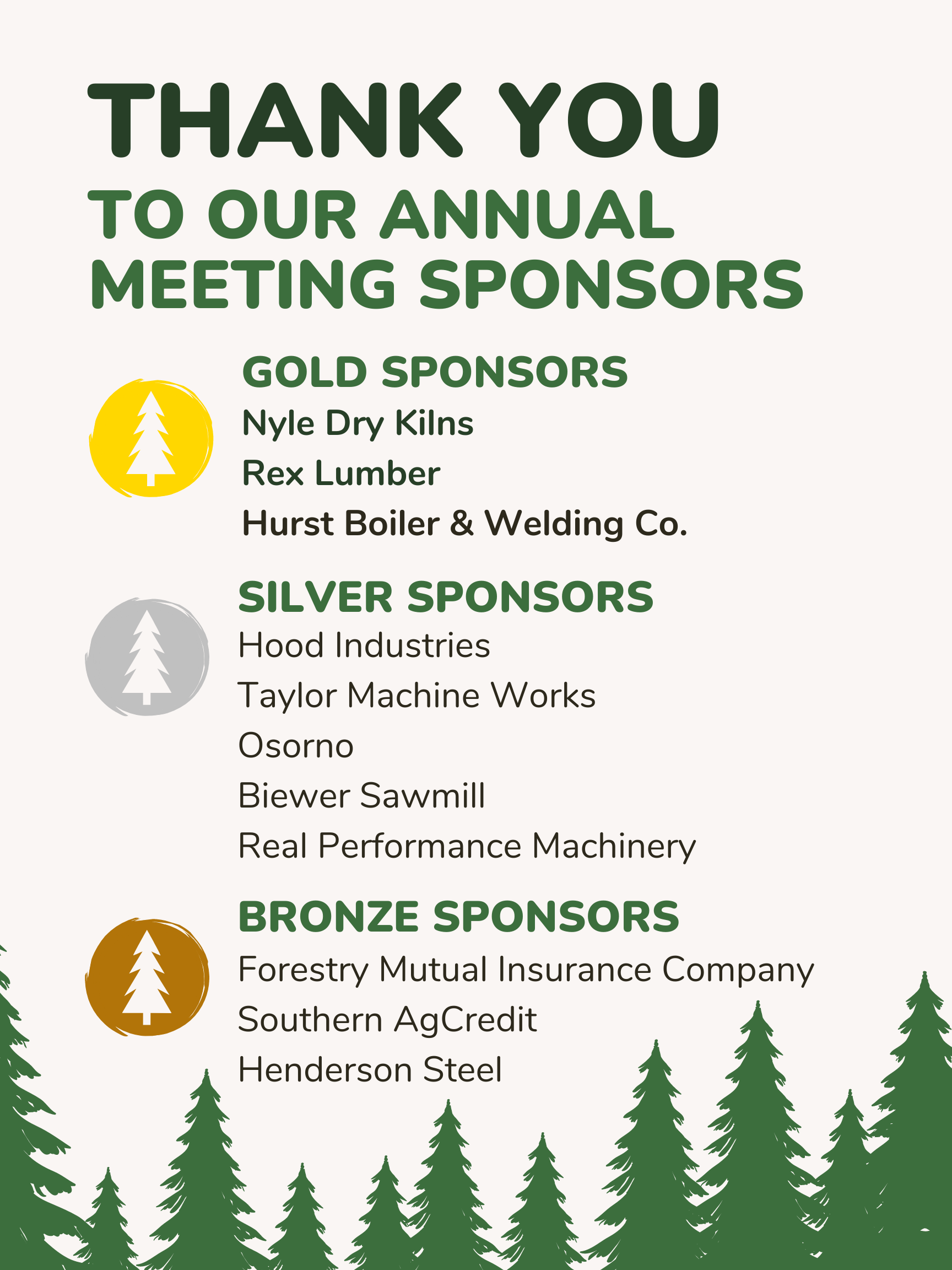 For More Information:

P.O. Box 5241
Jackson, MS 39296
601.672.7362